Pitchfork Day 1
I'm not gonna promise to come back and post more text this time. I mean, I would like to but you know as well as I do that it's probably not going to happen. But here are some pictures and some text inspired by said pictures. And inspired by missing pictures. (Note: the pics are about 25% larger than shown, so you can view image for a slightly larger shot.)
I hear there was about 18,000 people. It was about 95 F with high humidity. Certainly high for me (from Arizona) but it seemed high even for Midwest folks. The water was cheap, the food was decent and not so bad in price, the people overall were fun and there wasn't much of the pushing and forcing to the front.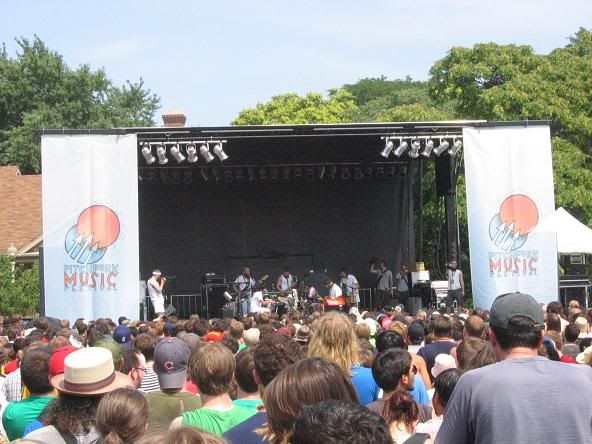 The first band I saw was actually Chin Up Chin Up (not pictured.) I missed Hot Machines (not seen, even) entirely, arriving around 1:45 pm. We took the bus down from Bucktown and then I had to sell an extra pair of tickets... which didn't take much effort at all what with the show being sold out. Anyway, then I got inside and saw the last song or two by Chin Up Chin Up and then moved to Stage C for Man Man (pictured above.) They were weird. Covered with war paint and feathers, jumping around and being loud. Around this time I parted ways with my cousin (not pictured, but he could be if he so desired) and met up with friends from Ohia (not pictured) to see Band of Horses (not pictured.) I enjoyed them better than Man Man, partially because I was more familiar with their music. I wasn't, however, fully commited to the set and left Stage A early to get a good spot for the Mountain Goats (pictured below.)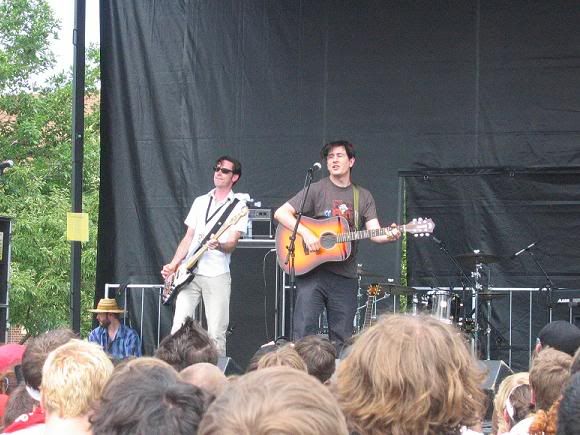 Oh, yeah. There are two stages, A and C (plus the dance/whatever tent, B.) The two stages were completely offset, a band would finish their set from stage C and then within about 5 minutes the next band would start on stage A. Even right up at the front you could sort of see the other stage (askew, that is) and you could sort of hear it if they were playing loudly. It wasn't terribly conducive for really listening. So when Band of Horses closed with "Funeral" I knew they were playing it but I can't really comment on how it sounded because I was in the wrong place.
The set by the Mountain Goats was one of the most amazing I have ever seen. John was in a great mood, hilariously telling stories as intros to his songs, jumping around and actually kinda acting like a goofy rock star in front of a large, receptive crowd. I mean, he asked us to sing "No Children" and it is shocking to learn that there are thousands of other people that know this song that well. The setlist was ridiculously great including my favorite, "Source Decay" (which I've never heard live) other songs such as "Dance Music" and "Cubs in Five" and several new songs. They closed with "Terror Song." I was in shock and overwhelmed with joy almost the entire time.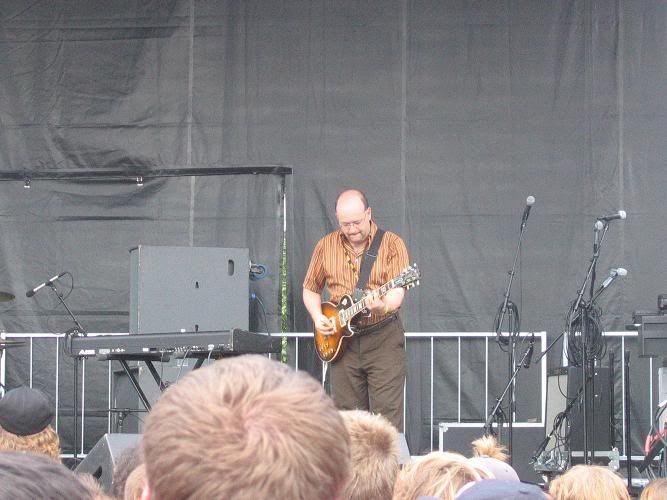 Franklin Bruno (see Nothing Painted Blue, the Extra Glenns, Franklin Bruno) played piano or guitar for most of the songs.
After the Mountain Goats I needed to get some water and cool off and calm down. I really wanted to see Destroyer (see below, kinda, if you squint/imagine it) but... well, the Goats are a tough act to follow.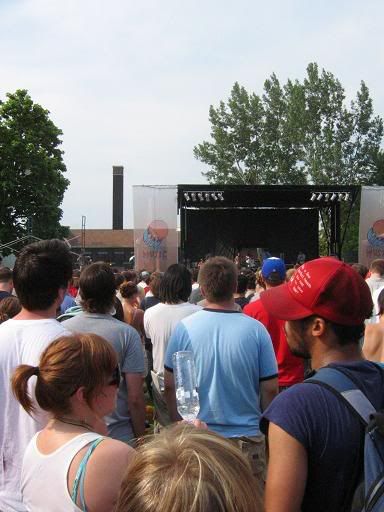 I did hear Destroyer from afar, thus not really getting into the set. It sounded good enough, though.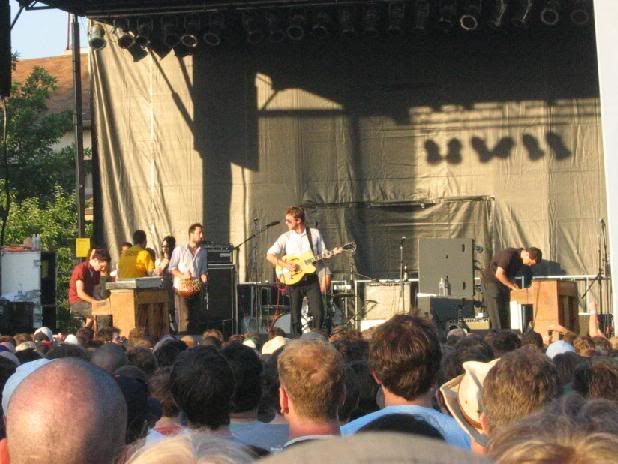 Then there was some resting in the shade and eating and chatting with new friends while Art Brut (not pictured) and Ted Leo (not pictured) + The Pharmacists (also not pictured) performed. I did catch a song or two by Ted Leo but I failed to noticed him bloodying himself.
I did see the Walkmen (pictured above.) They were good. They played songs like "The Rat" and "Thinking of a Dream I Had." And a couple guys from Man Man came out to play horns (not pictured.)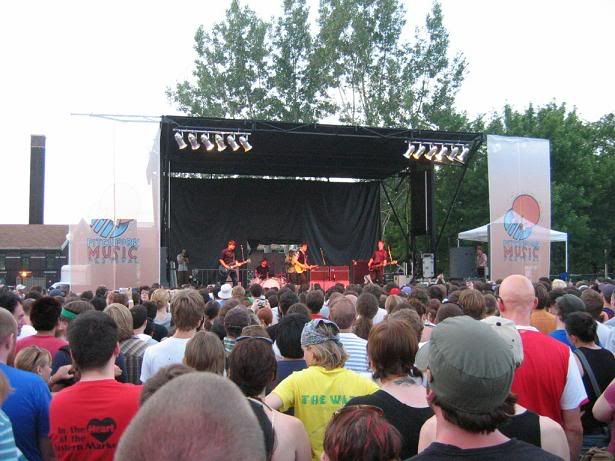 Next up was the Futureheads. The sun was starting to set but it was not yet starting to cool off. Who am I kidding, it never really cooled off. The loss of the sun (not pictured) was nice, though.
Setlist:
Decent Days and Nights
Area
View (I can't figure out what I meant.)
Meantime
Back to the Sea
A to B
Favours for Favours
? (I did not recognize this one and I failed to record any lyric snippets.)
Skip to the End
Hounds of Love
He Knows
Carnival Kids
Man Ray
Then I saw the Silver Jews (not pictured.) There was resting and there was "Animal Shapes," "Horseleg Swastikas" and "There Is A Place." It was good but I can see how it would be much better in a club.
We then walked around a lot trying to catch a cab and then we found one and we got home and it was fun.